Description
Link Manufacturing has developed a broad array of deployable mounted aluminum ramp solutions engineered for cargo vans. Link's lightweight, low profile mounted aluminum ramps vertically mount just inside a vehicle's rear doors. Each mounted ramp is made from high-strength aluminum and engineered for simple installation and ease of use.
All Link mounted ramps are fast, easy and convenient to deploy, use and stow. By stowing vertically inside the vehicle's cargo hold, the ramp is not exposed to the weather or road debris and takes up less than 12 inches of horizontal space.
The LT30 Series ramp is a high-strength aluminum, surface-mount ramp that installs easily into any vehicle with a flat surface. The trifold design of the ramp allows it to easily store vertically inside the vehicle. The adjustable leg gives the option for shallow load angles. If needed, the ramp can be removed in less than a minute. The LT30 Series ramps weigh between 110 to 140 pounds with a weight capacity of 1,000 pounds.
All LT30 Series trifold ramps are 119″ in length and can be purchased in 24″, 30″ or 36″ widths.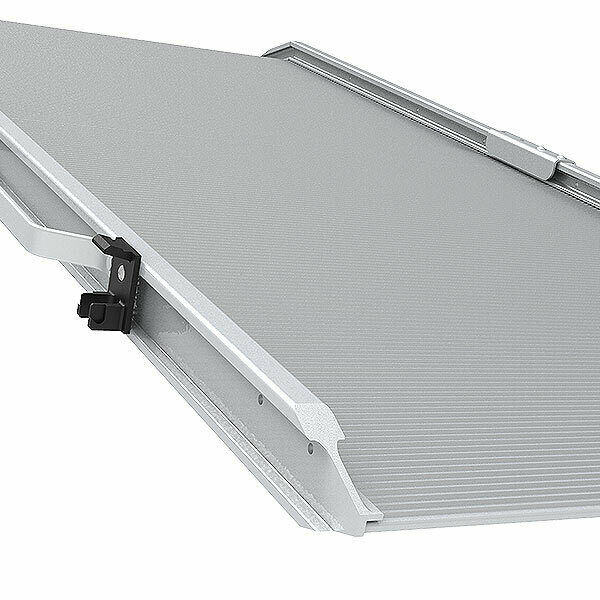 High-Strength Aluminum
LT30 is designed for reliability using extruded high strength steel. The extensive line of LT30 sizes provides an option for most applications.
Easy Baseplate Installation
The LT30 mounts easily on a flat surface and covers only 15 inches of floor space. The baseplate requires 4 bolts in the floor to install for use.
Adjustable Leg
The included adjustable leg gives the option for shallow load angles.
Quick Unloading & Loading
The LT30 is easy to release and deploy with quick-release latches and sturdy hinge points.
Dead Space Storage
The LT30 ramp folds in half and stores vertically in the dead space of the vehicle. The tri-fold ramp collapses to roughly 7.5 inches in depth.
Link LT30 Trifold Ramp Specifications
| Model | Ramp Width | Height Stored | Baseplate Depth | Baseplate Width | Weight | Weight Capacity |
| --- | --- | --- | --- | --- | --- | --- |
| LT30-24-119 | 24″ | 46.75″ | 15″ | 30.25″ | 110 lbs. | 1,000 lbs. |
| LT30-30-119 | 30″ | 46.75″ | 15″ | 36.25″ | 125 lbs. | 1,000 lbs. |
| LT30-36-119 | 36″ | 46.75″ | 15″ | 42.25″ | 140 lbs. | 1,000 lbs. |
*All Link LT30 Ramps are 119″ length ramps.