Description
Link Manufacturing has developed a broad array of deployable mounted aluminum ramp solutions engineered for cargo vans. Link's lightweight, low-profile mounted aluminum ramps vertically mount just inside a vehicle's rear doors. Each mounted ramp is made from high-strength aluminum and engineered for simple installation and ease of use.
With 180 degrees of rotation and two storage locations, the LSR90 Swivel Ramp offers flexibility for loading and unloading cargo quickly. It mounts in the rear stored position using a mounting plate combined with one of Link's durable spring-assisted bifold ramps.
The ramp's swing action gives users two storage positions and complete open access to the cargo hold. The swivel ramp mounts in the rear stored position like a traditional folding ramp, but can swing to also be stored inside, behind the wheel well – providing options for instances when a loading ramp isn't needed. When not in use for loading or unloading, the ramp rotates outside of the vehicle for unobstructed access.
The LSR90 ramp also incorporates safety and efficiency into its design. The primary latching module can be easily removed to provide open floor space, and the quick-release lever enables the ramp to be unlatched when in the wheel well position, without requiring users to bend, lift or enter the vehicle.
The LSR90 Series Swivel Ramp weighs between 157 to 225 pounds and its weight capacity ranges between 1,000 and 1,500 pounds, depending on the model.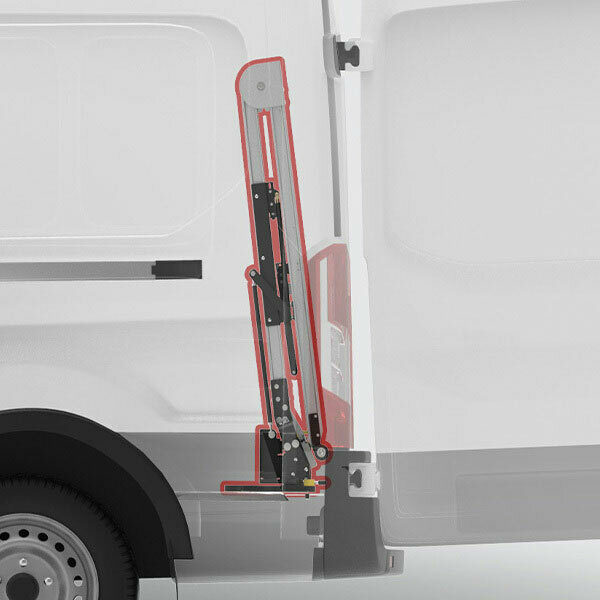 Rear Stored Position
Traditional mount position with latching mechanism for secure transport.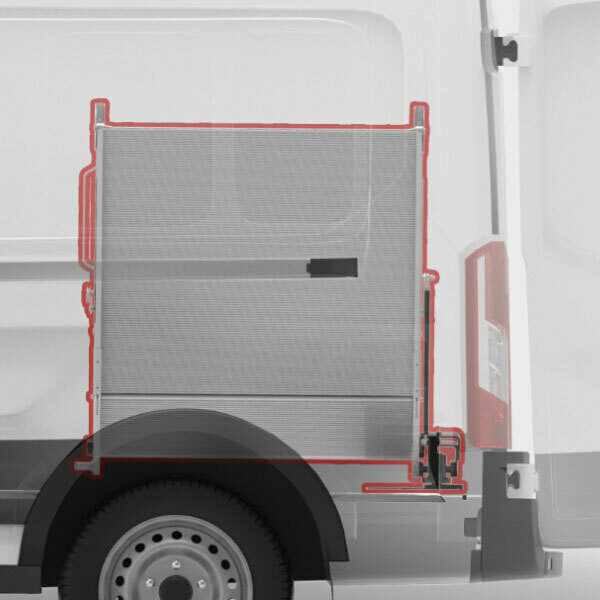 Wheel Well Position
Rotated inward 90° to store behind the wheel well, allowing flexibility when no ramp is needed.
Outside Position
Rotated outward 90° to allow complete unobstructed access when unloading partial loads.
Quick Release Latch
The quick-release latch enables the ramp to be unlatched, without requiring users to enter the vehicle.
Detachable Latch
The rear latching mechanism provides secure transport, but also is detachable to allow full floor access when needed.
Inside Rear Latch
The inside rear latch mechanism is used for secure storage and transport when in the wheel well position.
Link LSR90 Swivel Ramp Fit Guide
Please use the chart below to see which length ramps will fit your vehicle.
Vehicle
Roof Height
Ramp Length
99″
108″
117″
Ford Transit
Mid Roof
Ford Transit
High Roof
Nissan NV
High Roof
RAM ProMaster
Std Roof
RAM ProMaster
High Roof
Mercedes/Freightliner Sprinter
Std Roof
Mercedes/Freightliner Sprinter
High Roof
Link LSR90 Swivel Ramp Specifications
| Model | Ramp Width | Ramp Length | Ramp Weight | Weight Capacity |
| --- | --- | --- | --- | --- |
| LSR90-30-99 | 30″ | 99″ | 157 lbs. | 1,500 lbs |
| LSR90-30-108 | 30″ | 108″ | 163 lbs. | 1,250 lbs |
| LSR90-30-117 | 30″ | 117″ | 169 lbs. | 1,000 lbs |
| LSR90-36-99 | 36″ | 99″ | 167 lbs. | 1,000 lbs |
| LSR90-36-108 | 36″ | 108″ | 173 lbs. | 1,250 lbs |
| LSR90-36-117 | 36″ | 117″ | 179 lbs. | 1,000 lbs |
| LSR90-47-99 | 47″ | 99″ | 225 lbs. | 1,500 lbs |